Public Charter Startup Grants
Supporting the creation and growth of diverse, high-quality charter schools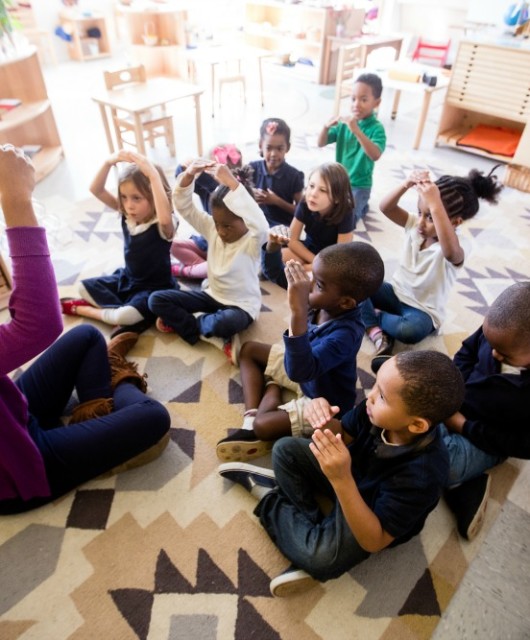 Providing grants to educators to develop and launch new schools
The Walton Family Foundation has supported the creation and growth of diverse, high-quality charter schools since 1997 as part of our effort to give all families — especially those with the greatest needs — the opportunity to choose the best options for their children. In our Public Charter Startup Grant Program, we focus on supporting high-quality and high-potential charter schools serving low-income children in our target geographies.

The foundation has invested more than $407 million to grow high-quality charter schools since 1997.

Going forward, the Walton Family Foundation is committed to helping high-performing charter management organizations expand and replicate what works. It is also committed to investing more in small, independent operators who have new ideas about how to provide high-quality educational options to high-needs students. We believe entrepreneurs with new ideas can innovate, answer communities' demands, and create great schools that meet each child's unique needs.
The Walton Family Foundation's Approach to Starting and Growing High-Quality Schools

Providing charter schools with access to capital 
to create and expand facilities
Paths to Funding Your School Startup
To receive Walton Family Foundation Public Charter Startup Grant funding, an applicant may follow one of two paths:
1. Apply to one of our partners. The foundation partners with local and national organizations to support qualified school operator affiliates. Startup support, as well as earlier stage support, may be available to qualified affiliates of the following partners. If you are affiliated with one of the following, please reach out to your appropriate relationship manager at one of these partner organizations.

Charter School Growth Fund
The Knowledge is Power Program (KIPP)
Building Excellent Schools
NewSchools Venture Fund
Silicon Schools
The City Fund
New Schools for Baton Rouge
Education Forward DC
The Mind Trust
Good Reason Houston
2. Apply directly to the Walton Family Foundation Startup Grant Program. We seek to fund high-quality and high-potential operators with plans to open new public schools in our target geographies. These schools will strive to transform learning and significantly improve academic outcomes for K-12 students, particularly those from traditionally underserved communities.
Information About Public Charter Startup Grants
2020 Grant Program and Timeline

Traditional startup grants vary depending on funding needs and network size and range from $100,000 to $325,000. Funding can be used to support the startup and launch costs associated with opening a new school. Learn more about our funding levels.

The preapplication for the 2020 round is now closed.

Selection Process:

1. Complete online eligibility form by May 15, 2020.
2. Receive invitation from the Walton Family Foundation to apply for funding by June 30, 2020.
3. Complete application and foundation interview in July - August 2020.

>

Qualifying for the Public Charter Startup Grant program

Initial qualifying criteria for applicants:


The school must demonstrate strong potential for delivering excellent academic results for K-12 students, as measured by standardized achievement tests.
The school seeks to serve a significant percentage of students from low-income families.
The school must NOT represent a for-profit entity.
The school must either have opened in 2019, or plan on opening in fall of 2020 or 2021 to be eligible for startup funding in 2020. Eligible schools must currently be authorized or expect to be authorized in summer 2020.
The school is in "startup" mode, which is the period that begins 18 months before opening and ends at the culmination of the school's first year of operations.
The school must draw a majority of its students from one of the foundation's targeted districts.
The school has not previously received WFF startup funding from any intermediary partner, or be eligible to be considered for WFF startup funding from another intermediary partner in the future.

If you are a current grantee, you must be up-to-date on all of our reporting requirements to apply.

>

Targeted districts for Public Charter School Grants

The foundation's strategy is to focus grants on a limited number of districts to make significant changes in those locations. Only public charter schools drawing a majority of their students from the following districts may apply:


Arkansas: Any District
California: Los Angeles Unified School District [Map of specific boundaries]; Oakland Unified School District
Colorado: Denver Public Schools
Georgia: Atlanta Public Schools
Indiana: Indianapolis Public Schools
Louisiana: Orleans Parish School Board
Massachusetts: Boston Public Schools
New Jersey: Camden City School District
New York: New York City
Oklahoma: Any District
Tennessee: Shelby County Schools
Texas: Houston Independent School District; San Antonio Metro Area
Washington, D.C.: District of Columbia Public Schools

>

The preapplication for the 2020 round is now closed.

>

Vanderbilt University professor says tools like ChatGPT introduce novel ways for communicating and collaborating in the classroom

El Paso teacher says the AI bot has helped bridge the gap in learning created by COVID-19

High school junior Zachary Clifton uses ChatGPT to bridge gaps in his understanding